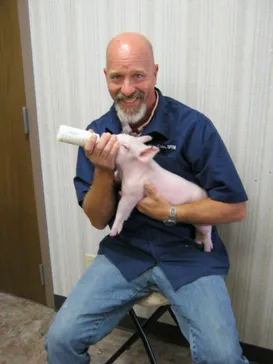 Rhys Cole, DVM
A life long resident of Canadian County, Dr. Cole began working at a veterinary clinic at only eleven years of age. He was fortunate enough to know at such a young age that he wanted to be a veterinarian. Dr. Cole graduated in 1991 from Oklahoma State University College of Veterinary Medicine. Following graduation he practiced in Hobart and El Reno, Oklahoma before coming to Piedmont Vet Clinic in 1994. Dr. Cole enjoys all aspects of veterinary medicine but has a special interest in small animal medicine and surgery, porcine medicine and surgery, and large animal embryo transfer and artificial insemination. He is also very active helping young students with 4-H and FFA livestock projects. Dr. Cole is very blessed to have been married to his high school sweetheart, Debra, for the last 29 years. Together they have 3 sons: Jarrod, Kail, and Kort. Dr. Cole is a very hard working, dedicated veterinarian. He is committed completely to preserving and restoring the human-animal bond through veterinary medicine. He values nothing more than the trust his clients place in him to provide their animals with the best care.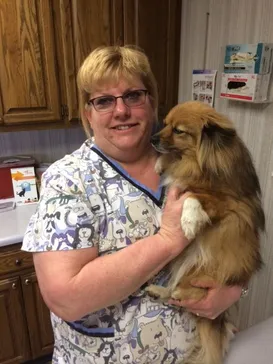 Kathy Harris
Kathy Harris is a veterinary technician here at PVC. She was raised in Illinois and graduated from Parkland College. Kathy is the longest serving staff member at Piedmont Vet Clinic. She has continuously worked at the clinic since 1982 and has seen the clinic undergo many changes. Kathy says she is still very excited to be a member of the PVC family and enjoys watching the clinic grow in service and expertise. Kathy lives on 10 acres between Yukon and Piedmont with her husband, Robert, 1 cat, 2 dogs, and 3 horses.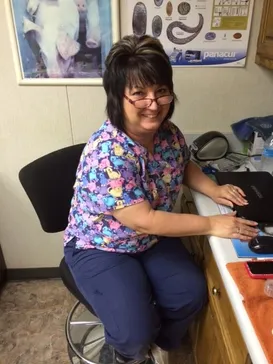 Michelle Jay, Office Manager
Michelle joined Piedmont Vet Clinic in 1996. After 25 years working at PVC, Michelle has gained much knowledge and experience and has become an invaluable member of the team. Michelle lives in Piedmont with her husband, Daryl, 4 children, 3 dogs, and 3 cats. Michelle values the many friendships she has made while working at the clinic. She says she loves the clients and the staff at PVC.
Claudia Taylor, Veterinary Technician
Claudia joined our team here at PVC in August of 2016. She lives here in Piedmont along with her husband Paul and two daughters that attend Piedmont schools. She has a love for all animals and has horses, dogs, cats, and a pet pig. She enjoys working here at PVC and being able to be part of our family.